An Interactive Sleep Education Program for High School Students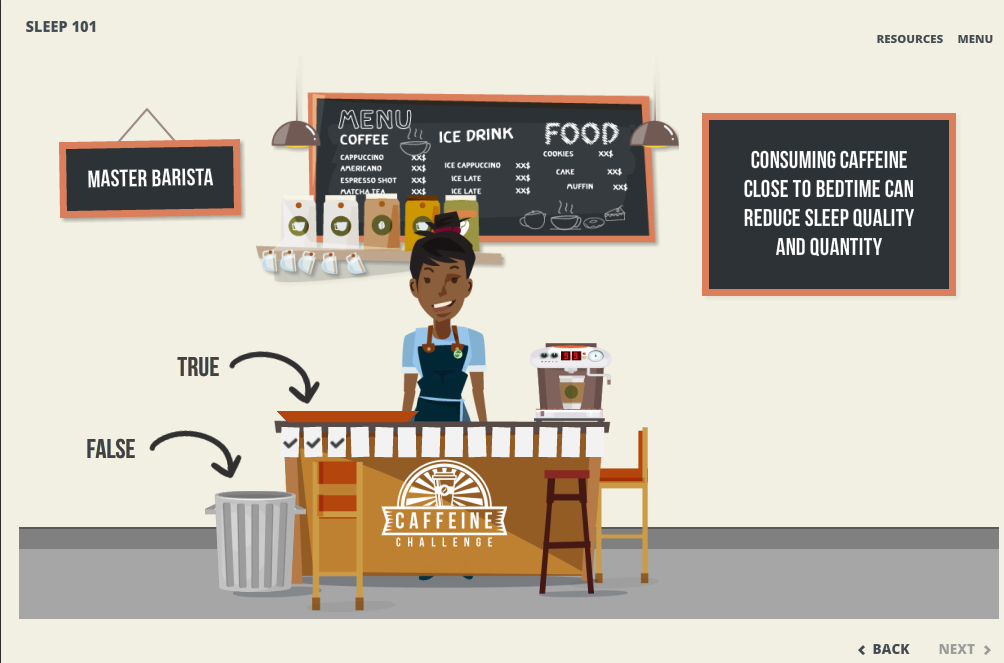 Sleep 101, an award-winning online, interactive sleep education program for high school students that uses videos, interactive activities, and games to provide a broad survey of the many ways that sleep affects life in high school and provides practical tips on how to improve sleep quality.
The program covers a wide variety of content including:
Using sleep to boost school performance and GPA
Mental health and sleep deprivation
Caffeine use – myths and realities
The impact of all-nighters
Short- and long-term health effects of sleep deprivation
Sleep and athletics
Tips for setting up a sleep-friendly bedroom
Thanks to the generosity of a private donor, the high school version of Sleep 101 is available during the 2020-2021 school year at no cost to high school students, teachers, and the general public around the United States. The program has been most commonly used as an in-classroom activity or homework assignment, but the content can also be used in drivers education classes, "prescribed" in medical settings, and assigned by coaches for student athletes.
Whether you are a concerned teacher, guidance counselor, advisor, drivers education instructor, parent, therapist, medical professional, mentor, or coach, or student you can now share this material with the 7th-12th graders in your life.
Frequently Asked Questions (FAQs)
What ages is the program designed for?
The program is currently being used for students in 7th-12th grade. We have a version of the program for college students as well. For more information, please visit sleep101.info or contact us at pziporyn[at]bwh.harvard.edu.
How long is the program?
The program is designed to take approximately 25-30 minutes. 
What kind of information will we collect about students?
 We do not collect any information about students. If you are interested in implementing a survey alongside Sleep 101 to assess student sleep habits and knowledge, please contact us at pziporyn[at]bwh.harvard.edu.
Who exactly is developing Sleep 101?
Sleep 101 is being jointly developed by the Brigham and Women's Hospital's Sleep Health Institute in conjunction with the nonprofit Healthy Hours. Our team consists of Harvard Medical School and Brigham physicians and researchers led by Dr. Charles Czeisler and Dr. Stuart Quan (internationally recognized sleep experts), together with professional medical writers who aim to make scientific content accessible and interesting to college students. We also worked with a team of skilled developers, graphic artists, instructional designers, and filmmakers to make the program fun and engaging.
Will students need to pass a test?
No. The program consists of interactive activities and games, which give students a chance to learn and engage with the material without the need to take any sort of traditional assessment. We have worked with institutions to create custom versions of the program that include a survey and school-specific content. If interested, please contact us at pziporyn[at]bwh.harvard.edu.
For additional information, please reach out to our Project Manager, Pallas Ziporyn, at pziporyn[at]bwh.harvard.edu.